New Low Cost Force Distance Tester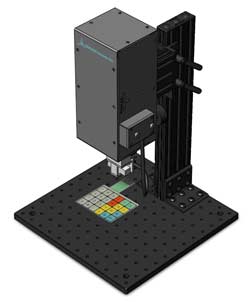 (Elgin, IL, January 17th 2011) The New Model 925 Force Distance Tester meets the needs of industry in testing membrane and momentary switches, keypads, keyboards, elastomers, springs, plugs, sockets . . . virtually any component where accurate displacement-force measurements are required.
The test station features operator-programmable touch-force, displacement range and test speed, interchangeable force sensors. Its Windows TM-based control and analysis software program, which presents test data in tabular and graphic formats, provides for storage, viewing, analysis, classification, graphic representation, and printout of test results. The 925 provides accurate, in-depth test data that can be easily transferred to any database, spreadsheet, and SPC programs.
Invaluable as a test tool for qualifying first article product, audit testing, engineering investigation, inspection, and life-study tests, the Model 925 can also be used in automated production areas.
Operating in an Engineering mode enables the 925 to log up to 5,000 data points. The data points are obtained and stored during a single test; test data having a displacement of 0.00254 mm (0.0001 inch) and force to 0.1 gram resolution is accessible to the operator.
The Model 925 Force-Distance Tester is the most accurate and cost-effective test stations of its kind. It features accuracy levels equal to or exceeding those of much more expensive dedicated systems.
For inquires in Europe or South America please see contact information below. All other inquires contact TRICOR directly 
.
Europe
Ian Ridpath
Nicomatic (UK) LTD
United Kingdom
[44] (146) 267-7886
Fax [44] (146) 267-7499
South America
Carlos Guimaraes
Huez Components Ltda
Urbanovos Campos, Brazil
San Jose de

[

12](98) 321-8686